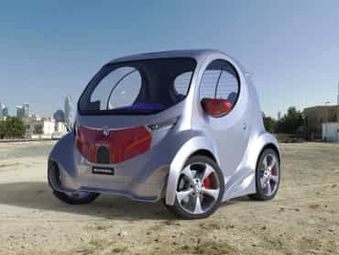 The leader and sponsor of the Himera Q project, Andriy Dzhazovskyi, who lives in Monaco, with a group of Ukrainian engineers first hit everyone with this supercar, and now they have presented a new development of a miniature electric vehicle called Kugel.
Very small in size (only 2.7 meters in length) this car may well become a real competitor for the Smart ForTwo.
This small electric car will be driven by a 3.3 kW motor with a torque of 130 Nm.
To increase the energy potential of the Kugel electric vehicle, solar panels are used in its design. The use of such panels mounted on the roof, will provide energy for climate control system during the day period. Also collected in the drive for the light of time, the stock of electricity is used to operate the lighting devices.
The maximum capacity battery provided for this electric vehicle is able to provide a power reserve of 220 kilometers without recharging, and it can be fully charged in 20 minutes. It also offers less powerful power sources with a guaranteed mileage of at least 180 kilometers.
An electric car Kugel is a very compact vehicle with two doors that looks like a ball on wheels. The original design solutions belong to the Macedonian car painter, Dejan Hristov. The successful combination of body shape and seat placement made it possible to carry out an electric car in triple and six-seater variants. Pickup and convertible models have also been developed.
The driver's seat is located in the center of the cabin, and two passenger a little behind on one and the other side of it. At production of the car fiberglass body panels are used. This principle of assembly allows you to adjust its production in the volume of a small series in a small enterprise. The range of colors of the panels is very diverse, so it is possible to get electric cars for every taste.