Hyundai Kona 2018 is designed primarily for urban operation. It is wider and lower than the main competitor of Nissan Juke (Manual page) and attracts a small loading height of the trunk.
The design of the crossover, perhaps not everyone will like, but it is not ordinary and expressive. By the way, a plastic kit in Hyundai is called armor.
The interior looks more reserved. The readings of the instruments are perfectly read, and a high landing behind the wheel provides a good visibility. The multimedia menu is simple and you navigate quickly.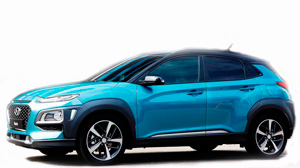 On the second row, the Hyundai Kona 2018 is quite spacious, by the standards of a compact crossover. Two adults of medium height can sit down one after another. The most powerful 1.6-liter turbo engine at 174 liters. from. works in tandem with a 7-speed transmission with two clutches.
The engine weighs and provides good dynamics - 7.7 s to 100 km / h. In the checkpoint there are comfortable and sporting modes, although the difference between them is not very noticeable. The declared average fuel consumption is 7.0 l / 100 km.
The top version is all-wheel drive. Also in Europe will be offered a 1.0-liter gasoline turbo engine for 120 liters. from. and 1.6-liter turbodiesels. The suspension on the car for the Korean market is more tuned to comfort, and therefore absorbs badly potholes. The steering wheel is light, although a little more informative it would not hurt. Also there is a good noise isolation of the cabin.
According to preliminary data, the price of Hyundai Kona 2018 will be from 17 thousand euros in the base version. The European version, most likely, will differ from the Korean settings running.