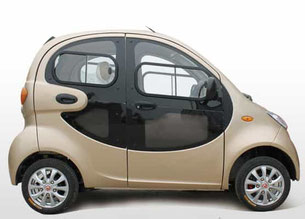 The overall dimensions of FULLU MK1 are less than 2.5 meters in length (2450 mm), a height of just over one and a half meters (1550 mm), and the width is generally minimal - 1230 millimeters. Just the same children's sizes, but, nevertheless, provides for the transportation of four people along with the driver. Such a device weighs 435 kilograms.
What to say about the design? It is simple and ambiguous, probably, not everyone will like it. And what can be expected for such a price? The main thing is that the car performs the main function - it goes!
In addition, there is a rearview camera, central locking and a radio with USB. In the management of all very simple. Suspension ordinary - McPherson, the size of the alloy wheels - R12. In the elements of the finish plastic predominates. The amount of ground clearance is 163 millimeters.
An electric motor is able to develop a power of 3 horsepower (2.2 kW) and at the same time the car can accelerate up to 50 kilometers per hour. During rotation, the engine is driven by a lead-based battery, which provides a range of about 120 kilometers on a single charge at minimum speed. If you go as fast as possible, the charge should be enough for 70 kilometers.
Electric car from China Fulu Mk1 can fully restore the capacity of the power source from the charger within eight hours.
Like any product, an electric car from China Fulu Mk1 must find its buyer. How it can be used on the roads is a big question. Now it is absolutely clear that it is possible to use this electric vehicle for moving on some internal lanes of parks, exhibitions or something like that.
However, as time goes on, gasoline rises in price continuously, so that the demand for electric cars will increase. As a consequence, it is possible that the legislation will change, allowing you to drive such cars on public roads. Especially since the power reserve allows the Fulu Mk1 to move during the day at medium distances.