While some people call LeEco's initiative to develop a series E-class electric car along with the projects of its Faraday Future subsidiary, a soap bubble and loud ambitions, supported in reality by only non-functional concepts, the manufacturer himself is now demonstrating to the world community a pre-series prototype.
An updated version of the stylish liftback with an electric motor, called LeSEE Pro, the developers brought to Los Angeles and even managed to baptize it as a direct competitor to the model Tesla Model S.
With the interior of LeEco LeSee Pro, the Chinese manufacturer first introduced us in the II quarter of this year. After six months, the concept car underwent minor cosmetic changes and is now positioned by the company from China as a "model" of the future serial product. It is worth noting that the updated version of LeSEE Pro visually differs from its predecessor, shown in April, only the design of the headlights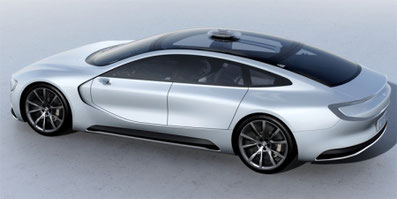 Of the features of the current LeEco LeSee Pro, it was noted the possibility to hide the steering wheel in the dashboard when selecting the autopilot mode to increase the available space, which will allow the driver to fully enjoy all the multimedia technologies realized in the electric car. Despite the original concept, this decision seems controversial and even dangerous.
The current mode of operation of the autopilot system will be known not only to passengers in the cabin: the external light indication in LeSEE Pro will inform the participants of the traffic and pedestrians whether the car is moving autonomously or it is under the control of the driver.
About the futuristic initiative Faraday Future, which includes the creation of a serial electro-hypercar with unique characteristics, we know even less.