Alfa Romeo Stelvio - compact crossover class "K1" with front or all-wheel drive. The world premiere of the model took place at the Los Angeles Auto Show in November 2016.
Italian designers managed to give the first "SUV" Alfa Romeo elegant design, inherent in all models of the company. Thus, the front part of Stelvio received a triangular-shaped grille with a pair of additional horizontal air intakes in the bumper. Finish the picture narrow headlights with a "predatory" look.
The "muscular" profile silhouette is characterized by a sloping roof and high windows. A large luggage compartment door at the stern of the car is decorated with headlights with LED filling. Below found its place a pair of round nozzles exhaust system of large diameter. Off-road properties are emphasized by edging from protective plastic framing the entire contour of the machine. Dimensions L / W / H are equal to 4687/1903/1671 mm respectively.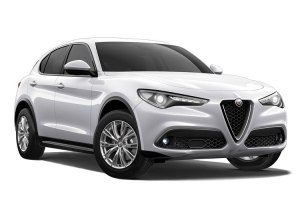 The sports style of the salon Alfa Romeo Stelvio is emphasized to the detail by a thoughtful arrangement of decoration materials and decorative elements. The driver's seat has an oval steering wheel with a lower cut, behind which are two wells of the instrument panel, between which the information display has found its place. In the cutout of the center console, the touch screen of the infotainment system "nestles", which, depending on the configuration, can have a diagonal of 6.5 or 8.8 inches. By the way, the latter is combined with the advanced Harman Kardon acoustic system.
Alfa Romeo Stelvio has a modular chassis Giorgio with a reinforced independent suspension in the form of a two-link system in the front and "multi-link" in the rear. The drive is by default rear, with the option of connecting the front wheels via the means of a pair of multi-disc clutches in the rear differential (to control the thrust vector).
Depending on the modification of the Alfa Romeo Stelvio can be equipped with turbocharged petrol engines in volume 2.0 and 2.2 liters, the power of which can vary from 177 to 280 horsepower. In addition, for the version of Quadrifoglio, a 2.9-liter V6 turbo engine with a peak power of 510 hp is available, accelerating the car to 100 km / h in 4.0 seconds, a top speed of 285 km / h. In pair with any unit the firm 8-band "automatic" works.