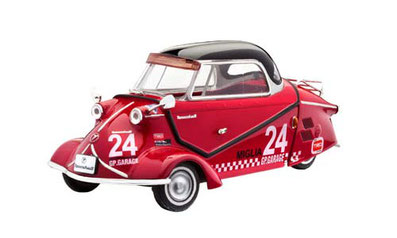 Messerschmitt KR200 was a three-wheeled motocross designed by an air engineer Fritz Fend and built from 1955 to 1964 at the German factory Messerschmitt, which was known for the production of military aircraft.
At that time, Messerschmitt was temporarily prohibited from engaging in the construction of aviation equipment, and for this reason engineers turned to civil needs and sought fame in the automotive industry. The first model of the company - KR175 - gained fame and its sales grew every year, so the company's management decided to refine and improve the model. So in 1955 appeared Messerschmitt KR200.
The KR200 was built on the same base as the KR175 and outwardly had quite a few differences from its predecessor: for example, wheel arches in front. The rear suspension and engine mount were completely redesigned, and hydraulic shock absorbers were installed on all three wheels,
With a retail price of 2,500 DM, the KR200 was a huge success. Already in the first year of production, about 12 thousand Messerschmitt KR200 were sold, which could accelerate to 90 km / h.
In 1957, the KR200 Kabrio version was released - a cabriolet with a soft top and windows at the sides. After him appeared a roadster - KR201, which had no side frames at all - only a windshield.
The production of the KR200 model fell dramatically in 1962 and was completely stopped in 1964.
Models of cars Messerschmitt have been created with several unique features for all cars on a platform of motor-cars. Outwardly they had a narrow body, a transparent acrylic dome on top in the form of a bubble and a low arrangement of seats - these are the most obvious features.
The narrow KR200 body and a tandem seating arrangement was borrowed by Messerschmitt from the fuselage of the aircraft, which in those years was forbidden to be manufactured by Messerschmitt engineers.
The folding door in the form of a transparent bubble was also a perfect novelty for the automotive industry and an absolute classic in the construction of aircraft. The driver had a 360 degree full view as a fighter pilot. By the way, in Messerschmitt KR200 there was even a windshield wiper, though with a manual drive.